Moremo
SP 2018
MOREMO is a collection inspired by spontaneous mixture of the late 1980's color scheme and modern loungewear. The triangular and rectangular patterns are inspired by the surface elements of Indonesian traditional architecture (Minangkabau house of West Sumatra) and Western stained-glass windows. By hand-crocheting acrylic yarns and using found fabrics as materials, the collection defines fashion in which found materials could be made beautiful. Moremo is based on the artist's childhood imagination of drawing dolls to life.
Techniques: hand-crochet, pattern making, garment construction
Models: Sam Zanowski, Britain Corbin, Kayleigh Efird, Maggie Hyde, Catalina Zamarripa, Katherine Marrinan, Anna Wang, Sharon Hsuan Liu, Laura Pengelly, Jouan Su, Yun Xue, Alyssa Ziobruh, Eva Massey
AVA -
the mix of classic femininity with bold confidence.
Black Line Crochet Bralette (acrylic yarn)
Hybrid Blue Pants (nylon, cotton, polyester)
MALINDI
free-spirited, easy going, cool
Crochet Cover Up (acrylic yarn)
White Pants (crepe)
Tatted Lace Earrings (thread floss)
ZENI -
edgy, downtown, trendy
Crop Top Crochet Sweater (acrylic yarn)
Darty Shorts ( nylon, cotton, polyester)
Tatted Lace Earrings (thread floss)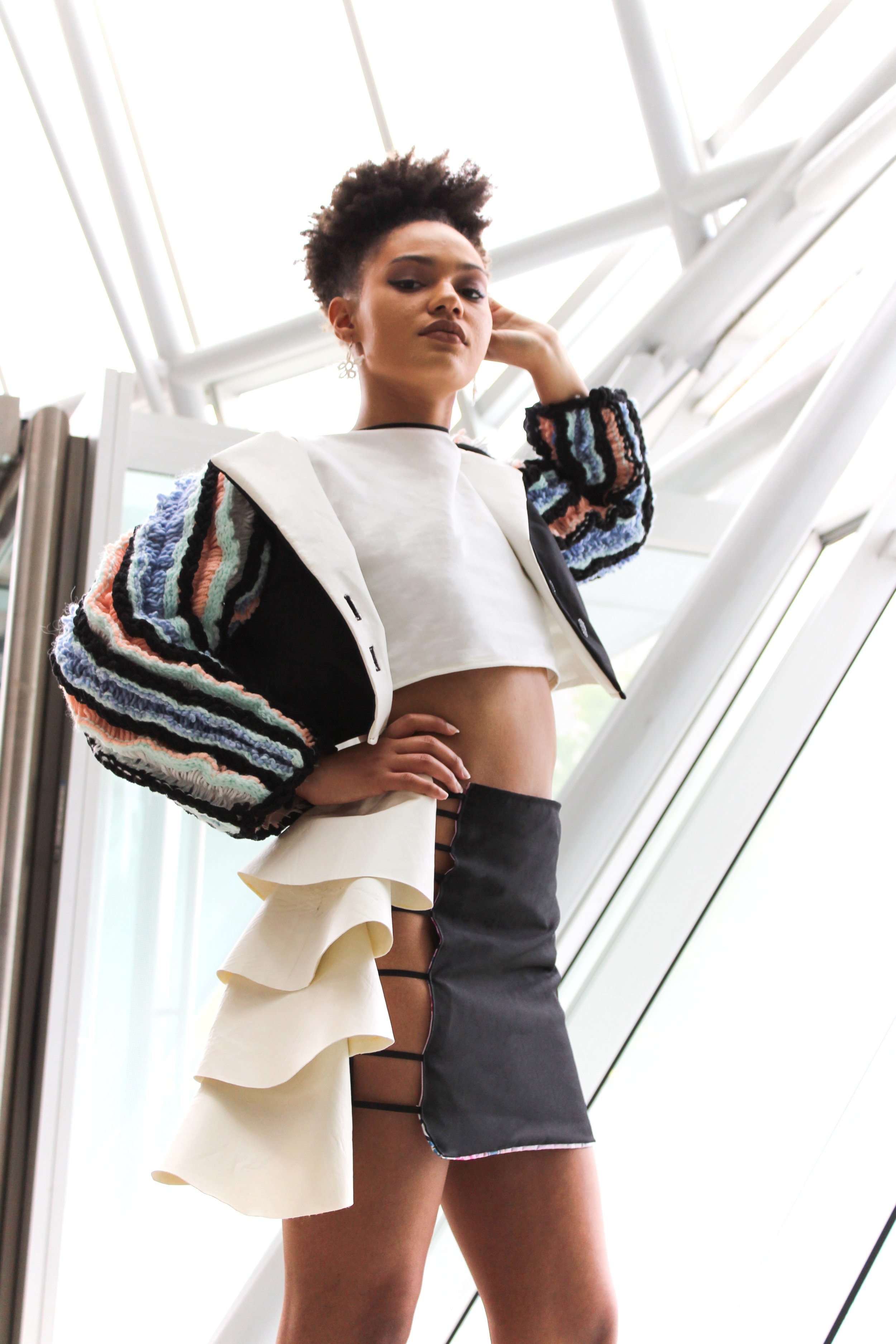 MAYA -
fierce, playful, artistic
White Crop Top (cotton)
Coral Arm Blazers (acrylic yarn, polyester, faux leather)
Open Side Mini-Skirt (polyester, cotton, faux leather)
Tatted Lace Earrings (thread floss)
LULU -
quirky, youthful, bubbly
Pink Crochet Crop Top (acrylic yarn, paper clips)
Fluffy Pink Mini Skirt (polyester fleece)
ARIANA -
chic, relaxed, stylish
Pink Short Overalls (polyester fleece)
Pink Jacket (polyester rise pattern fabric, faux fur)
Crochet Blue Bralette (cotton yarn, acrylic yarn)
Tatted Lace Earrings (thread floss)
BRIE -
sporty, comfortable, simple
Open Shoulder Crop Top (polyester fleece)
Pink & Black Hybrid Pants (black polyester, fleece)
**All materials are found and identified through burn test and materials knowledge of the artist
Photographers: Suzanne Sferrazza, Laura Young, Clarissa Iskandar
Models: Tyler Washington, Maggie Hyde, Katherine Marrinan, Britain Corbin, Eva Massey, Anna Wang, Catalina Z, Jordyn Greenia